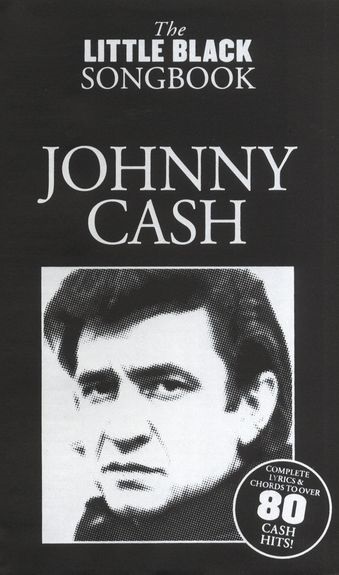 MS The Little Black Songbook: Johnny Cash
---
---
---
Detailní popis:
Noty pro kytaru THE LITTLE BLACK BOOK: JOHNNY CASH
Knihy z edice The Little Black Book jsou zpěvníky, které obsahují text a akordové značky, a nejvíc je tak ocení kytaristé. Tento díl je věnován skladbám Johnnyho Cashe.
Seznam skladeb:
(Ghost) Riders In The Sky
(There'll Be) Peace In The Valley (For Me)
25 Minutes To Go
A Boy Named Sue
A Singer Of Songs
A Thing Called Love
All Over Again
Ballad Of A Teenage Queen
Big River
Blistered
Cocaine Blues
Come In Stranger
Cry! Cry! Cry!
Daddy Sang Bass
Delia's Gone
Don't Take Your Guns To Town
Down There By The Train
Drive On
Five Feet High And Rising
Flesh And Blood
Folsom Prison Blues
Forty Shades Of Green
Frankie's Man, Johnny
Get Rhythm
Girl Of The North Country
Give My Love To Rose
God's Gonna Cut You Down
Guess Things Happen That Way
Help Me
Hey, Porter!
Highwayman
Home Of The Blues
Hurt
I Am A Pilgrim
I Got Stripes
I Hung My Head
I See A Darkness
I Still Miss Someone
I Walk The Line
If I Were A Carpenter
I'm A Drifter
I'm Free From The Chain Gang Now
It Ain't Me Babe
Jackson
Like The 309
Long Black Veil
Long-Legged Guitar Pickin' Man
Man In White
Next In Line
One
One Piece At A Time
Ring Of Fire
Rock Island Line
Rowboat
Rusty Cage
Sam Hall
San Quentin
So Doggone Lonesome
Solitary Man
Straight A's In Love
Sunday Morning Coming Down
Tennessee Flat-top Box
The Ballad Of Ira Hayes
The Beast In Me
The Man Comes Around
The Man In Black
The Mercy Seat
The Night Hank Williams Came To Town
The One On The Right Is On The Left
The Orange Blossom Special
The Wanderer
The Ways Of A Woman In Love
There You Go
Thirteen
Train Of Love
Two Timin' Woman
Understand Your Man
Wanted Man
Wayfaring Stranger
Were You There When They Crucified My Lord?
What Is Truth
Wreck Of Old '97
You're The Nearest Thing To Heaven


---
Popis, fotografie a parametry produktu MS The Little Black Songbook: Johnny Cash jsou získány z jednotlivých nabídek internetových obchodů. Před zakoupením produktu doporučujeme tyto informace (v konkrétním internetovém obchodě) překontrolovat.