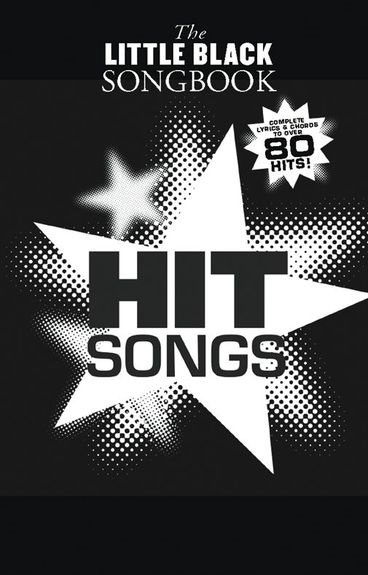 MS The Little Black Songbook: Hit Songs
---
---
---
Detailní popis:
Zpěvník LITTLE BLACK SONGBOOK: HIT SONGS
Zpěvníky z edice Little Black Book obsahují texty a akordy k desítkám populárních skladeb. Tato verze těchto zpěvníků kapesní velikosti představuje ty největší hity všech dob.
Seznam skladeb:
(Something Inside) So Strong [Siffre, Labi]
(You're) Having My Baby [Anka, Paul]
All The Young Dudes [Mott The Hoople]
American Boy [Estelle]
Atomic [Blondie]
Babylon [Gray, David]
Bedshaped [Keane]
Blame It On The Boogie [Jacksons, The]
Bohemian Like You [Dandy Warhols, The]
Boogie Nights [Heatwave]
Broken Strings [Morrison, James] [Furtado, Nelly]
Couldn't Get It Right [Climax Blues Band, The]
Crazy [Barkley, Gnarls]
Dancing With Myself [Generation X]
DARE [Gorillaz]
Dominos [Big Pink, The]
Don't Stop Now [Crowded House]
Eclipse (All Yours) [Metric]
Everything Changes [Take That]
Fallen Angel [Valli, Frankie] [Four Seasons, The]
Forget You [Green, Cee-Lo]
Give Me The Night [Benson, George]
Glory Box [Portishead]
Goodnight Girl [Wet Wet Wet]
Herculean [The Good, The Bad & The Queen]
Hey That's No Way To... [Cohen, Leonard]
Hey Ya! [OutKast]
History Repeating [Propellerheads] [Bassey, Shirley]
Hong Kong Garden [Siouxsie & The Banshees]
Hot Hot Hot [Arrow]
I Don't Want To Talk About It [Stewart, Rod]
It Must Be Love [Madness]
Jump [Madonna]
Lazy [X-press 2] [Byrne, David]
Life On Mars? [Bowie, David]
Little Star [Nordenstam, Stina]
Living In The Past [Tull, Jethro]
Love Like A Man [Ten Years After]
Mad World [Andrews, Michael] [Jules, Gary]
Maps [Yeah Yeah Yeahs]
Meet Me Halfway [Black Eyed Peas, The]
Men's Needs [Cribs, The]
Millionaire [Kelis] [André 3000]
Mykonos [Fleet Foxes]
One Day I'll Fly Away [Crawford, Randy]
Pale Shelter [Tears For Fears]
Perfect Moment [Mccutcheon, Martine]
Perfect Skin [Cole, Lloyd] [Commotions, The]
Puppy Love [Osmond, Donny]
Pure [Lightning Seeds, The]
Pure Shores [All Saints]
Rise [Gabrielle]
Rude Boy [Rihanna]
She's A Lady [Jones, Tom]
Skinny Love [Iver, Bon]
Spanish Train [de Burgh, Chris]
Standing In The Way... [Gossip]
Steady, As She Goes [Raconteurs, The]
Street Life [Crusaders, The]
Stronger [Sugababes]
Sunday Girl [Blondie]
The High Road [Broken Bells]
The More You Ignore Me, The Closer I Get [Morrissey]
The Time Is Now [Moloko]
The Word Girl [Scritti Politti]
These Are The Days [Cullum, Jamie]
They Don't Know [MacColl, Kirsty]
Think Twice [Dion, Celine]
Three Lions [Baddiel & Skinner & The Lightning]
Thriller [Jackson, Michael]
Trouble [LaMontagne, Ray]
Tumble And Fall [Feeder]
Weak [Anansie, Skunk]
What Took You So Long? [Bunton, Emma]
When The Night Feels My Song [Bedouin Soundclash]
White Wedding [Idol, Billy]
Wires [Athlete]
Wishing Well [D'Arbay, Terence Trent]
Witchcraft [Sinatra, Frank]
Woke Up This Morning [Alabama 3]
Wrong Impression [Imbruglia, Natalie]
Yah Mo B There [Ingram, James] [McDonald, Michael]
Yes [McAlmont & Butler]
You Know Me [Williams, Robbie]
You're Gorgeous [Babybird]
You're Not Alone [Olive]
Ziggy Stardust [Bowie, David]

---
Popis, fotografie a parametry produktu MS The Little Black Songbook: Hit Songs jsou získány z jednotlivých nabídek internetových obchodů. Před zakoupením produktu doporučujeme tyto informace (v konkrétním internetovém obchodě) překontrolovat.