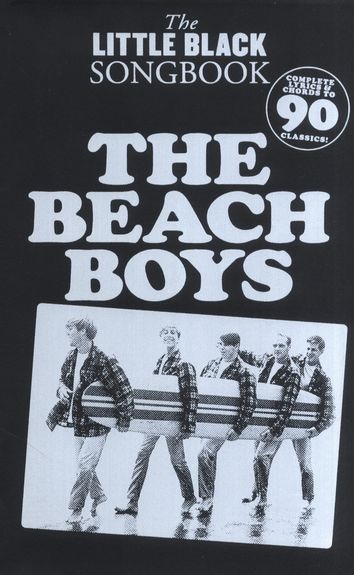 MS The Little Black Songbook: The Beach Boys
---
---
---
Detailní popis:
Noty pro kytaru LITTLE BLACK SONGBOOK: THE BEACH BOYS
Zpěvníky z edice Little Black Book obsahují texty a akordy k desítkám populárních skladeb. Tato verze těchto zpěvníků kapesní velikosti představuje ty největší hity The Beach Boys.
Seznam skladeb:
'Til I Die
Add Some Music To Your Day
All I Want To Do
All Summer Long
Barbara Ann
Be True To Your School
Bluebirds Over The Mountain
Break Away
Busy Doin' Nothin'
Cabinessence
California Girls
Caroline, No
Celebrate The News
Cotton Fields (The Cotton Song)
Country Air
Cuddle Up
Dance, Dance, Dance
Darlin'
Disney Girls (1957)
Do It Again
Don't Back Down
Don't Talk (Put Your Head On My Shoulder)
Don't Worry Baby
Farmer's Daughter
Feel Flows
Forever
Friends
Fun, Fun, Fun
Girl Don't Tell Me
God Only Knows
Goin' On
Good Timin'
Good Vibrations
Help Me, Rhonda
Here Comes The Night
Here Today
Heroes And Villains
I Can Hear Music
I Get Around
I Just Wasn't Made For These Times
I Know There's An Answer
I'd Love Just Once To See You
I'm So Young
I'm Waiting For The Day
In My Room
In The Back Of My Mind
It's OK
Kiss Me, Baby
Kokomo
Kona Coast
Lady Lynda
Let Him Run Wild
Let The Wind Blow
Little Bird
Little Deuce Coupe
Little Honda
Little Saint Nick
Lonely Sea
Long Promised Road
Marcella
Please Let Me Wonder
Sail On, Sailor
She Knows Me Too Well
Shut Down
Slip On Through
Sloop John B
Sumahama
Surf's Up
Surfer Girl
Surfin' Safari
Surfin' U.S.A.
Take A Load Off Your Feet
Tears In The Morning
That's Not Me
The Little Girl I Once Knew
The Night Was So Young
The Trader
The Warmth Of The Sun
Their Hearts Were Full Of Spring
Then I Kissed Her
This Whole World
Time To Get Alone
Wake The World
Wendy
When I Grow Up (To Be A Man)
Wild Honey
Wonderful
Wouldn't It Be Nice
You Still Believe In Me
You're So Good To Me

---
Popis, fotografie a parametry produktu MS The Little Black Songbook: The Beach Boys jsou získány z jednotlivých nabídek internetových obchodů. Před zakoupením produktu doporučujeme tyto informace (v konkrétním internetovém obchodě) překontrolovat.