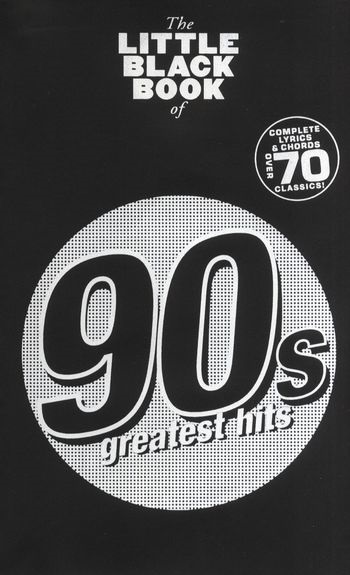 MS The Little Black Book Of '90s Greatest Hits
---
---
---
Detailní popis:
Zpěvník LITTLE BLACK BOOK OF 90S GREATEST HITS
Zpěvníky z edice Little Black Book obsahují texty a akordy k desítkám populárních skladeb. Tato verze těchto zpěvníků kapesní velikosti představuje ty největší hity 90. let.
Seznam skladeb:
(Everything I Do) I Do It For You [Adams, Bryan]
2 Become 1 [Spice Girls, The]
A Design For Life [Manic Street Preachers]
A Girl Like You [Collins, Edwyn]
A Little Time [Beautiful South, The]
Achy Breaky Heart [Cyrus, Billy Ray]
Adia [Sarah, McLachlan]
After All [Frank And Walters, The]
Always [Bon Jovi]
Animal Nitrate [Suede]
Been Caught Stealing [Jane's Addiction]
Brimful Of Asha [Cornershop]
Calling Elvis [Dire Straits]
Celebrity Skin [Hole]
Cigarettes & Alcohol [Oasis]
Cream [Prince & The New Power Generation]
Creep [Radiohead]
Disco 2000 [Pulp]
Do You Love Me? [Nick Cave & The Bad Seeds]
Dreams [The Cranberries]
Even Better Than The Real Thing [U2]
Everybody Here Wants You [Buckley, Jeff]
Friday I'm In Love [Cure, The]
Frozen [Madonna]
Goldfinger [Ash]
Gone Till November [Wyclef Jean]
Good Enough [Dodgy]
Hard To Handle [Black Crowes, The]
I Alone [Live]
I Believe I Can Fly [R. Kelly]
I Try [Gray, Macy]
Jeremy [Pearl Jam]
Just A Girl [No Doubt]
Learn To Fly [Foo Fighters]
Let Me Entertain You [Williams, Robbie]
Livin' La Vida Loca [Martin, Ricky]
Looking For Love [Ramirez, Karen]
Loser [Beck]
Love Is All Around [Wet Wet Wet]
M.O.R. [Blur]
Maria [Blondie]
My Favourite Game [Cardigans, The]
Nancy Boy [Placebo]
Northern Lites [Super Furry Animals]
Novocaine For The Soul [Eels]
Peacock Suit [Weller, Paul]
Queer [Garbage]
Road Rage [Catatonia]
Rocks [Primal Scream]
Seven Days [Sting]
She's A Star [James]
Sleeping Satellite [Archer, Tasmin]
Smells Like Teen Spirit [Nirvana]
Something For The Weekend [Divine Comedy, The]
Tears In Heaven [Clapton, Eric]
Thank U [Morissette, Alanis]
That Don't Impress Me Much [Twain, Shania]
The Bartender And The Thief [Stereophonics]
The Life Of Riley [Lightning Seeds, The]
The More You Ignore Me, The Closer I Get [Morrissey]
The Obvious Child [Simon, Paul]
The Size Of A Cow [Wonder Stuff, The]
Tied To The 90s [Travis]
Tonight, Tonight [Smashing Pumpkins, The]
Two Princes [Spin Doctors]
Until It Sleeps [Metallica]
Weather With You [Crowded House]
What Can I Do [Corrs, The]
Where I Find My Heaven [Gigolo Aunts]
Yes [McAlmont & Butler]
You Don't Love Me (No, No, No) [Penn, Dawn]
You Get What You Give [New Radicals, The]
Your Woman [White Town]

---
Popis, fotografie a parametry produktu MS The Little Black Book Of '90s Greatest Hits jsou získány z jednotlivých nabídek internetových obchodů. Před zakoupením produktu doporučujeme tyto informace (v konkrétním internetovém obchodě) překontrolovat.